RF Design
Spatial Applications performs RF design using the latest simulation techniques and analysis packages using SPICE simulations and the extra capabilities of packages like AWR's Microwave Office. We offer a full range of RF design capabilities. Discrete transmitters, receivers and analog signal processing have successfully designed and fielded.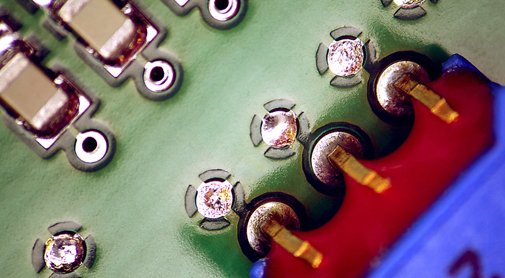 Transmitters
Switchmode amplifiers are used extensively in low transmit power and low power consumption projects. While there are a great variety of monolithic, system level components available, they are typically not the most power efficient devices available. That is why we look to discrete power amplifier design along with monolithic designs that best suit the requirements of the product. We can match the transmitter to a variety of antenna types and design. The antenna match is important to ensure a maximum transfer of power to the antenna and thus through the "ether" to the receiving antenna.
We have designed a wide variety of analog and digital modulators to go with the transmitter work that we have done. In many cases, carrier leakage is important in meeting the certification requirements of the product.
Receivers
For low power consumption designs, it is typical that the receiver consumes more power that the transmitter. Since for a transceiver type system, the receiver is almost always on, a power efficient design is necessary. This is probably one of the only cases where monolithic design is of great benefit. The latest monolithic designs are more power efficient with respect to the discrete designs. The question to ask is if the receiver and its demodulation techniques are compatible with the low power transmitter design. Our knowledge and background can pick out these gems for use knowing the limitations of the monolithic receiver and if those limitations can be countered.
Wireless modules
Wireless modules have become increasingly popular as the designs become more intricate and complicated. Using wireless modules speeds time to market, can lower costs for a limited production run and eases the certification process since many have already qualified in similar products. We have used various wireless modules and many of the more popular wireless standards, including 802.11, Zigbe, 802.15.4 and custom protocols.